Everyone seems to want to "reinvent" recruitment. Or "disrupt" it. Or, in the case of these clowns "change it forever".
Apparently, the 'big idea' in that last link is that the company are going to change recruitment forever by introducing some tech that will make it easy for everyone to be a recruiter by referring their friends for jobs.
Yeah, I know. Genius, right?
The thing that all the recruitment gurus and disruptors refuse to acknowledge is that…
Read more about "Let's change recruitment forever!"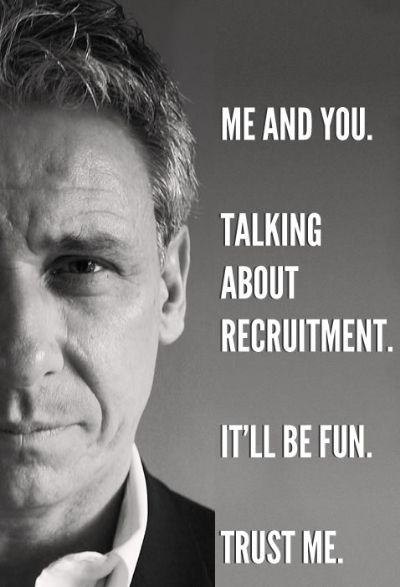 The Role
I have a vacancy for a new person to mentor – a Mentee I think is what people are calling this kind of person these days. Personally, I'm not a fan of the word so from now on I'm just going to use 'You'.
The position involves you recruiting staff for companies – something you've already started to excel at.
More specifically, this role will involve you stepping outside of your comfort zone and selling real recruitment solutions to companies that…
Read more about "I'm Hiring"
A few days back, this blog won an award.
My previous skirmishes with the world of awards notwithstanding, I felt it was only right and proper that I offer-up an acceptance speech.
And so, in the spirit of what the award was based on, I thought I'd do this in a blog.
"Firstly, I'd like to thank all of the friends of the judges who didn't update their blog over the past year. Without their inertia, this award wouldn't have been possible.
I'm…
Read more about "The Acceptance Speech"